How to pronounce Raleigh?

9 entries
Depends.

If it's related to the US, Such as the Capital of North Carolina, it's pronounced Raw-Lee.

But if it relates to something from the UK, such as the surname of Sir Walter Raleigh or the Raleigh Bicycle Company it would be pronounced Rah-Lee.
<!button type="button" class="btn btn-danger" onclick="toggle_opt('recoding-opt-one'), toggle_opt('recoding-opt-two');">
Phonetic Spelling:
[ R AW - l ee ]
| | | | | |
| --- | --- | --- | --- | --- |
| R | AW | - | l | ee |
| rat | law | | let | see |
Slow
Phonetic Spelling:
[ R AH - l ee ]
| | | | | |
| --- | --- | --- | --- | --- |
| R | AH | - | l | ee |
| rat | car | | let | see |
Slow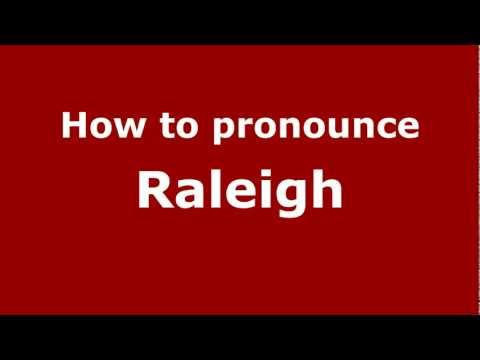 YouTube Video:
ray-lee
<!button type="button" class="btn btn-danger" onclick="toggle_opt('recoding-opt-one'), toggle_opt('recoding-opt-two');">
RAW-lee
lee - rhymes with see
<!button type="button" class="btn btn-danger" onclick="toggle_opt('recoding-opt-one'), toggle_opt('recoding-opt-two');">
Rah-Lay
<!button type="button" class="btn btn-danger" onclick="toggle_opt('recoding-opt-one'), toggle_opt('recoding-opt-two');">
Phonetic Spelling:
[ R aa l AY ]
| | | | |
| --- | --- | --- | --- |
| R | aa | l | AY |
| rat | car | let | lie |
<!button type="button" class="btn btn-danger" onclick="toggle_opt('recoding-opt-one'), toggle_opt('recoding-opt-two');">
Pronunciation of Raleigh in

England
Phonetic Spelling:
[ ri: lee ]
<!button type="button" class="btn btn-danger" onclick="toggle_opt('recoding-opt-one'), toggle_opt('recoding-opt-two');">
You say it like this if you are posh
Pronunciation of Raleigh in

England
Ry-lee
<!button type="button" class="btn btn-danger" onclick="toggle_opt('recoding-opt-one'), toggle_opt('recoding-opt-two');">
You say it like this if you are posh
Top YouTube videos in last 7 days